Alternative Dating Site for Craigslist Personals - Craigslist Shut Down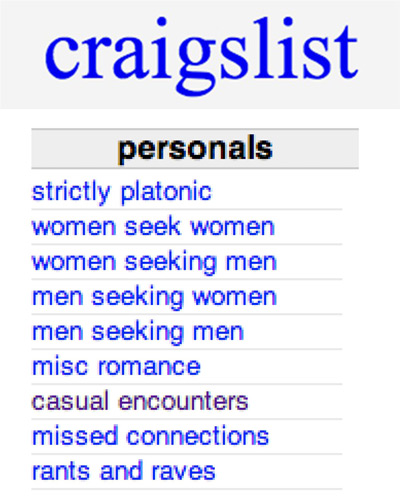 Were you surprised to learn that Craigslist Personals had suddenly shut down out of the blue? If you were using Craigslist for dating, we have a new alternative for single men and women to connect and hang out. We will also explain the cause of why Craigslist shut down their dating and personals section, some history behind it, and why you may still have some luck using our site (LetsHangOut.com) instead.
Background: Craigslist is one of the earliest websites, launched in 1996, and began largely a general classified advertisements service for everything from jobs, resumes, housing and things for sale in the San Francisco area. It grew tremendously by word of mouth. In 2000, Jim Buckmaster (current CEO) joined the company and expanded Craigslist across multiple cities, produced many new site features and of course the new Personals section added for the first time.
Craigslist hosted one of the earliest and most popular personals services on the internet, which is still widely used today. However, this service did not come without some major controversies over the years. The most popular categories for their personals were "strictly platonic", "men seeking women" and "women seeking men" for online dating. However, the trouble began with "casual encounters" and more specifically the "erotic services" category, which were equally popular.
Craigslist Personals & Dating Controversies
One of the first controversies began in 2002 when they added an disclaimer to ensure that anyone viewing these pages were over the age of 18. They added it to "men seeking men", "erotic services", "casual encounters" and "rants and raves" sections, but not for other dating categories such as "women seeking women", "men seeking women" and "women seeking men", which is where the problem came in. Eventually the 18+ years disclaimer was added to all personals categories.
In 2009, one of the biggest controversies involved the "erotic services" category. After pressure from a few US States and their Attorney Generals, they changed the category name to "adult services" on May 13, 2009. The reasoning was that the "erotic services" board was being used for prostitution and sex trafficking. Shortly later the next year on September 4, 2010, Craigslist decided to shut down the adult boards entirely in the United States. Later that year on December 19, Craigslist also remove the erotic and "Adult Gigs" section off of their Canadian pages, even though prostitution there wasn't illegal. There was too much criticism that these categories facilitated prostitution and sex trafficking, and the risk of too many people getting hurt.
Craigslist Personals Suddenly Shut Down - Why?
As of just recently on March 22, 2018, Craigslist has completely shut down their Personals section, entirely in response to a newly passed bill: Stop Enabling Sex Traffickers Act (SESTA), which removed Section 230 protection for services knowingly involved in illegal sex trafficking. Craigslist didn't want to jeopardize the rest of their classified ad business due to their personals section. However, they hold open the possibility that their popular personals boards will re-opened in the near future.
A New Alternative to Craigslist Dating / Personals
There were millions of reasonable folks out there who used Craigslist's dating services who were not involved in criminal activity. Unfortunately, they are now suddenly left out cold in the rain and must now find an alternative. Luckily, most Craigslist members can sign up with LetsHangOut.com - a 100% free online dating and personals service. Our service is similar to a combination of POF and OkCupid, and it has a fast and rich search capability.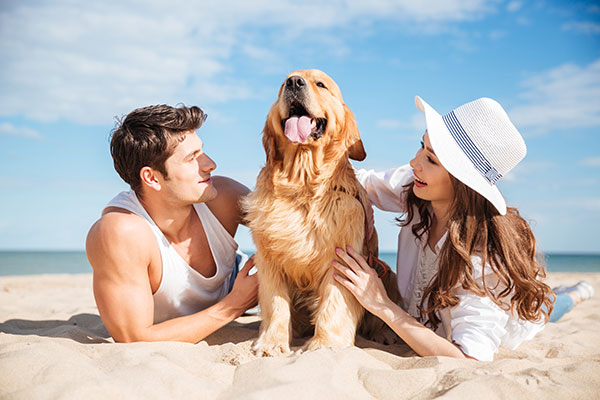 For those who are already familiar with Craigslist, members on Let's Hang Out can include search markers such as "m4w" (men seeking women) or "w4m" (women seeking men) into their profile descriptions. When a user performs a dating keyword search, these markers (or any other keyword) will be found and the profiles will be displayed. This is in addition to our basic searches that simply pull up all women seeking men for example without keyword search. Let's say you are seeking someone who is interested in "Star Wars", "Katy Perry" or "New England Patriots" for example, our keyword search will find these members for you! We have a rich collection of parameters users can use to find singles in specific cities and search radiuses for example, or to find members based on height/stature, ethnicity and much more. We are also developing live chat rooms, live private messaging and video chat capabilities for our members, which will be rolled out within weeks. Our personals are like Craigslist and similar, although members are setting up just one profile and getting involved in the dating community, rather than multiple, periodic ads.
However, Let's Hang Out has a zero-tolerance policy for adult or erotic services, so no adult/erotic services here! No prostitution or sex trafficking is allowed, and all members must be 18 years old or older. Our site is just for those interested in legal dating and hanging out (the 99% of those who were using Craigslist Personals). Anyone who is going to be meeting strangers for dating, should also read our guide on Online and Offline Dating Safety Tips. LetsHangOut.com may, or may not be the right fit for former Craigslist dating singles, but our service is also 100% free to use and has many features available for the single man and woman seeking a relationship or a date!
Click here to sign up!